I cannot write about one,without writing about the other.
A Chinese couple, heading home to Beijing after almost a year of visiting their daughter and son-in-law here in the US. Dying together, as they had been for 35 years of marriage, on American Airlines Flight 77 on September 11,2001.
Yuguang Zheng,65, was a retired chemist, and his wife, Shuyin Yang, was a retired pediatrician. They had one son, Shidong Zheng, of Nagano,Japan and one daughter, Rui Zheng, of Baltimore,MD.
Their daughter wrote a beautiful tribute to them on their Legacy.com page, that you can read in it's entirety here
Click here: Remember: September 11, 2001 - A site presented by Legacy.com
But to excerpt some of it:
"They were very loving and affectionate, although they had quite different hobbies and personalities. The husband loved painting"
I found a picture of one of his paintings
that his daughter had posted on the Washington Post memorial website
HERE
where she said,
"My father started Chinese painting about five years ago. Most of his paintings depict peaceful scenes, accompanied by small living creatures. These features capture my father: quiet, peaceful, but full of vitality.
Rui Zheng, daughter
She also said of her father
"To his children, he was a special father because he made you feel the love from the bottom of his heart, even though he didn't speak a lot."
About her mother,she said:
" His wife was an active, open-minded and kind lady.She loved to try every thing that was novel to her, even though sometimes it was a little risky. Besides, she liked cooking and was very good at it. Those who had tried her cooking loved her and her food."
On another Washington Post memorial page HERE , I found this picture of a gift her mother had given her daughter and son-in-law
and Rui Zheng said of it:
"My mother gave my husband and me this Bodhisattva Guanyin [a Buddist goddess] after our marriage. The Bodhisattva Guanyin hears the cries of the world and responds with deep care to those in need. Guanyin is also believed to bring happiness, give love and take care of people. That's how my mother lived her life."
Rui Zheng, daughter
She also said of her mother
"Definitely, the most important thing about her was that she was a good mother. She listened, accompanied and did her best to comfort her children whenever they felt upset and frustrated even after they grew up."
Rui Zheng's remembrance of her parents continues on to say:
"To both Yuguang and Shuyin, family was the most important thing. They loved each other and their children..........For their family members, the only thing that provides relief is knowing that the devoted couple was together all the time, even at the last minute of their lives.............What they left behind for family members and friends are the loving memories of them. "
Yuguang Zheng and Shuyin Yang (or,as I saw in some postings,Zheng Yuguang and Yang Shuyin) loved deeply, and were deeply loved.
They left behind other loving family members, as I found in this article here (from the China Daily) The article mentions Yang Shuyin's older sister, Yang Shuzhen, who is also a doctor, in Changzhou of east China's Jiangsu Province and Yang Shuzhen's daughter, Chen Wei, the niece of Zheng Yuguang and Yang Shuyin.
Chen Wei traveled to the US on behalf of the Chinese members of the families of Yuguang Zheng and Shuyin Yang for a memorial service held at the Pentagon shortly after their deaths.
And, at that service, Rui Zheng took some earth from the Pentagon, which she later buried in a cemetary in Beijing because she "wanted them to rest in peace at home."
Last year, Rui Zheng was invited to be a keynote speaker at the first memorial service held for the foreign victims of 9/11 in Washington. She went, Rui said, because
"It is an opportunity for me to let more people know my parents, who were loved by their families and friends."
--------------
I pray you rest in peace, Yuguang Zheng and Shuyin Yang. And I will now hold your children, family, and friends in my prayers and in my heart,whenever I remember September 11th,2001.
(This post is part of the 2,996 Project which began last year to honor and remember those who lost their lives on 9/11 )
-------------------------
Update: December 2008
Yesterday, I was able to visit the Pentagon Memorial, and touch the benches with your names, and pause to remember each of you.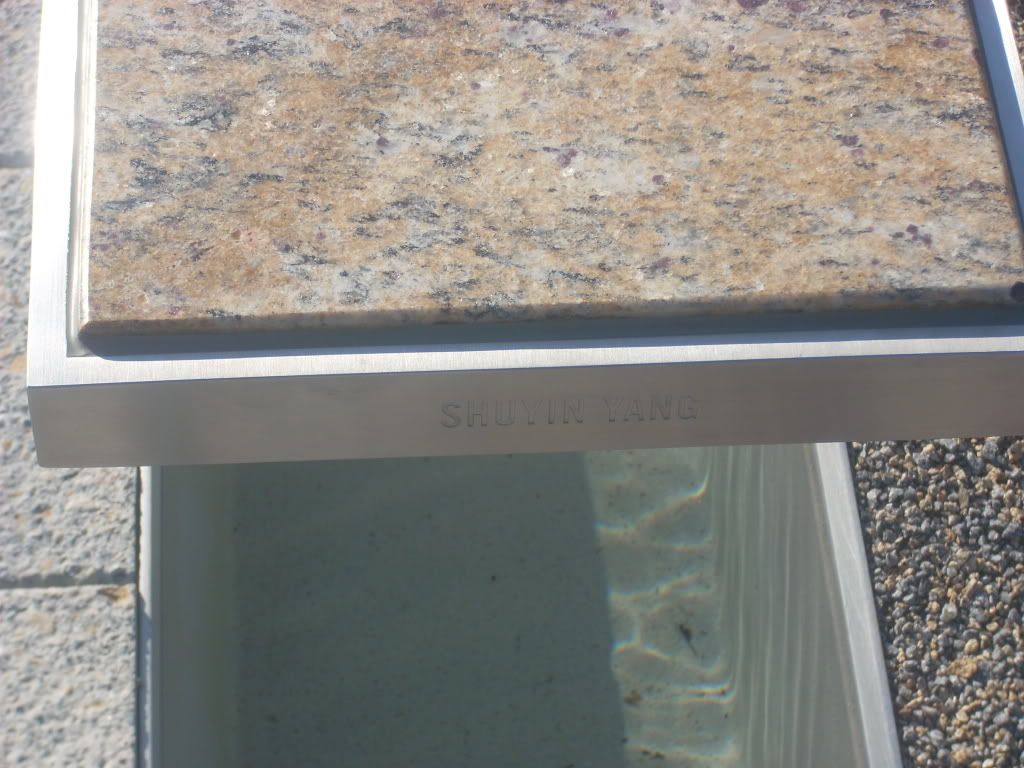 (although the picture I took did not capture it, your husband's name is listed along with yours, on the plaque over the water......as is the reverse on your husband's memorial bench. So, I was able to remember both of you together, and the memorial had a wonderful sense of peace and calmness about it. )