A very good online friend,Renee
has a missing family member.
She posted this bulletin today.
From:
Renee
Date: Mar 26, 2007 2:26 AM
My neice Kattiria Pacheco, 27 years old, from Albequerque, New Mexico has been missing since February 10th and her family misses her terribly, especially her 3 young children.
If you have seen her, or have any information in regards to her disappearance, please contact me at
threejarr@yahoo.com
Thanks so much in advance for your help ~ also, if anyone knows how I can get this across the web in another way so it gets out to more of the public please also contact me and let me know how I can accomplish this.
I have her pic posted on:
and also on my tagworld site:
-------
Again, here is the picture of her missing niece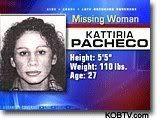 I found this news story listed on the web
Police seek missing woman
Last Update: 03/08/2007 12:47:00 PM
By: Reed Upton
Video

Albuquerque police are asking for the public's help in finding a woman who has been missing for almost a month.

Twenty-seven-year-old Kattiria Pacheco was last seen by her family on February 10, according to the police department, and her family is concerned about her whereabouts.

Pacheco is described as being 5 feet 5 inches tall and 110 pounds with brown hair.

Anyone who has seen here or has information about where she might be is being asked to contact the Albuquerque Police Department at 242-2677.

.
(And it looks to me in researching like the area code would be 505 )
I hope that you will do what you can to spread the word for my friend Renee about her niece, or pass on any information that you think might be helpful to her.
Because of Renee's bulletin, I did a Google search about missing adults, and came across these sites, which I passed on to her.
Thank you, for whatever you can do. And we will be keeping Renee and her family, and her missing niece, in our prayers.