You may recall that back on April 29, my daughter and I traveled to MD to volunteer with Soldiers Angels at the 2007 Face of America Bike Ride.
Click here: Woo Hoo! Yesterday at the 2007 Face of America Bike Ride was a blast!!
At the bike ride, we met a disabled veteran named Josh (pictured below)who had ridden a hand-cranked bike from PA to MD in the bike ride, as he is paralyzed from the waist down. He was an extremely personable and likeable young man, with a wonderful sense of humor, and my daughter and I were both honored and delighted to have met him, and his girlfriend.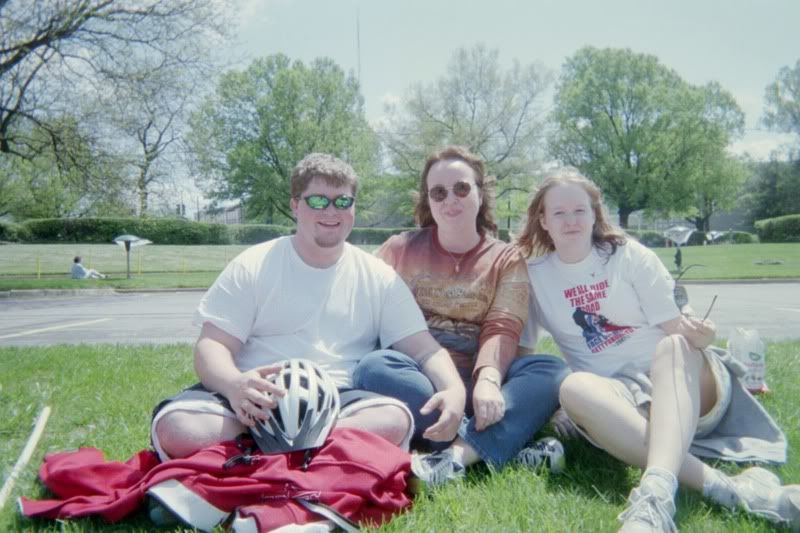 Well today, I opened an email that said "Help a Wounded WPB(West Palm Beach) Vet" , and read this:
Joshua is a 22yr. old former Army sniper who was wounded in the Global War on Terrorism. He was hit by shrapnel that pierced his stomach, bladder, intestines and left lung. Joshua had spent two years in Army and was deployed on January 2005. As a result of injuries sustained he cannot do anything physical that he did before. Joshua dresses himself but has no easy way of getting around his apartment complex, as he can no longer walk. Josh suffered what is called traumatic thoracic spinal cord myelopathy and was told he will be permanently paralyzed from waist down. The road back from recovery, as you can imagine, has been long and hard. But Joshua has pulled himself up by the bootstraps and is now looking into going to school.
Yep, you guessed it....this is the same Josh that my daughter and I had met. It is indeed a very small world sometimes, isn't it?
The emailwas from a newnot-for-profit organization called Independence Fund and their mission is
Mission
It is the purpose of the Independence Fund to serve wounded and disabled Veterans of the U.S. Armed Services. Our mission is to promote and expand the independence, self-respect, self-esteem, and improve the quality of life, of these brave men and women. It is our goal to provide adaptive equipment, and grant funding for proven medical therapies and leisure activities.
The purpose of the email I received was to spread the word about the Independence Fund trying to raise money for Josh to get something called an iBot wheelchair.
To quote the email further:
The iBot wheelchair Josh is riding in the picture below is a state of the art wheelchair that retails for $30,000. It was invented by "Segway" inventor Dean Kaman and takes that technology to a new level. It's six gyroscopes allow the user to climb stairs, drive on all terrain, and perhaps most importantly, allows the user to raise them self to eye level of a six-foot tall individual. For someone like Josh who has been relegated to the eyelevel of a six year old after being wounded in combat, this is huge from a psychological standpoint. This is by far the best piece of equipment I have come across for integrating someone like Josh, from the disabled community into the able bodied community.
Unfortunately, because Josh has full upper mobility, he does not meet the current VA criteria for a power-chair. It's a shame because many of the iBots features, (the ability to climb stairs for example) require upper mobility. The Independence Fund had lined up an anonymous donor to fund the purchase of Joshua's chair, and based on that information we arranged for an assessment/fitting for Joshua on 5 June. This was accomplished at the Orlando Medical Center, and a Marine comrade of mine, LtCol Tom Morgan, accompanied Josh that day. Tom's words were, "You should have seen the smile on that kids face when he was raised up to eye level."
Sadly, the promised funding for Josh's chair never materialized. It's something that these kids have come to accept, but it is frustrating none-the-less. For this reason I am requesting your assistance. Is there anything that you can do to get behind funding the chair for this brave young hero? Our non-profit also offers a means through which interested donors can make a tax-deductible donation. If enough people get behind this effort, I imagine that we may be able to not only fund Josh's chair, but others as well.
(Here's the pic the email referred to:)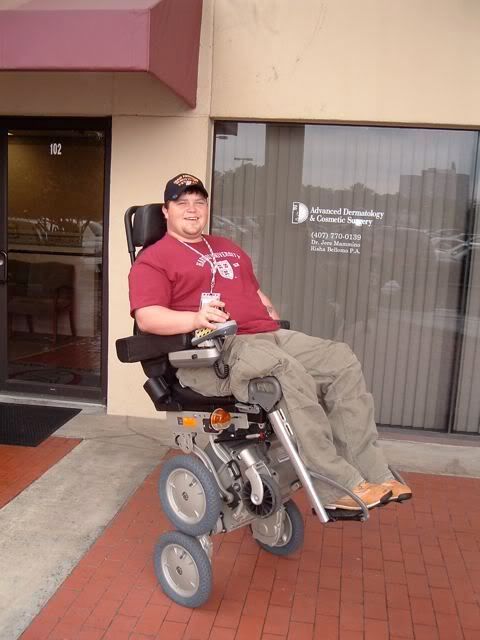 I checked out the Independence Fund and they are apparently affiliated with The Aleethia Foundation ,which, as you may recall, was started by Hal Koster and Tom Maier to provide a method of tax-deductible contributions to fund the (now defunct,thanks to the Hilton Corp) Friday night dinners for wounded veterans at Fran O'Brien's steakhouse in DC.
I also checked out Independence Fund's Board of Directors, and they are listed as:
Steve Danyluk: Founder/Director
Ed Edmundson: Director
Cheryl Lynch: Director
Ed Edmundson is the father of Eric Edmundson , whom I have frequently mentioned before, and whose CaringBridge page is listed in the sidebar.(The world gets smaller and smaller. And yikes, I have been remiss in not mentioning sooner that Eric and his Dad were featured not too long ago as the ABC Persons of the Week! Please check out his CaringBridge page for all the links about that.)
(Update: Yikes..."senior moment". Turns out that I also met Cheryl at the FOA bike ride....I THOUGHT her name sounded awfully familiar. Sorry,Cheryl!)
Steve Danyluk, the founder of Independence Fund according to the email, "had served in 4th ANGLICO, a Marine Reserve Unit based in West Palm and deployed to Iraq with a thirty-three Marine detachment a couple years ago"....and then," worked wounded issues out of a Pentagon agency for a year and became well versed in the things that were being done well to support our wounded, and the things that were being done "not so well."
"Now returned to civilian life"......"recently established a non-profit organization ( www.independencefund.org ) to address some of the things that are being done "not so well."
I decided to call Steve Danyluk, and spoke briefly with him( a very nice gentleman) to ask his permission to try and promote this further on the blog. In the email I had received from him, he also included a link to a news article about a recent Independence Fund fundraiser.
I also spoke with Josh, who admitted that yes, he Was "deeply disappointed" when the funding fell throughfor the iBot wheelchair, but said "I'm maintaining" and spoke of his plans to attend school.
You can read Josh's story on the Independence Fund website by clicking on "Support" and then "Sponsor a Vet" and on that page click on "Heroes' Stories" and he's listed under "Josh Lindsey".
On the "Sponsor a Vet" page, you can also see video footage of another wounded veteran using an iBot wheelchair. At the end of the video, it says that that veteran wants to donate his iBot to Josh? but apparently that is not happening now.
I found out more about the iBot wheelchair here
Click here: iBOT: FDA Approves Souped-Up Wheelchair that Climbs Stairs LAURAN NEERGAARD / AP 13aug03
here Click here: iBOT® Mobility System: About The iBOT® Mobility System
and here Click here: iBOT - Wikipedia, the free encyclopedia
------------------
I'm posting all this because I'd like to do whatever I can to help Josh,
and to promote the Independence Fund .
If you would like to donate to the Independence Fund specifically FOR Josh? (and I will be donating what I can this coming payday!)
There is a donation button on the website, just click "Support" and then click "Donate" and it says:
Donate On Line to the General Independence Fund or designate your donation to a specific wounded hero that is currently trying to meet specific goals. Any funds that exceed the goals of an individual's needs, will be utilized by the Independence Fund to assist another wounded veteran.
Or you can mail donations to:
Independence Fund / Aleethia Foundation
4960 Hwy 90 Suite 167
Pace, Florida 32571
(and please mark it "Josh Lindsey" if you want it specifically to go towards A CHAIR FOR JOSH )
However much, or little, that you can give, I am sure will be greatly appreciated! Once again, as Steve said in his email?
If enough people get behind this effort, I imagine that we may be able to not only fund Josh's chair, but others as well.
If nothing else, please feel free to copy,paste, repost, email a link to this post, and could you please help
SPREAD THE WORD
Thank you, for whatever you can do to help this young veteran.
And Thank You,also, for whatever you can do to help pass the word on about Independence Fund .