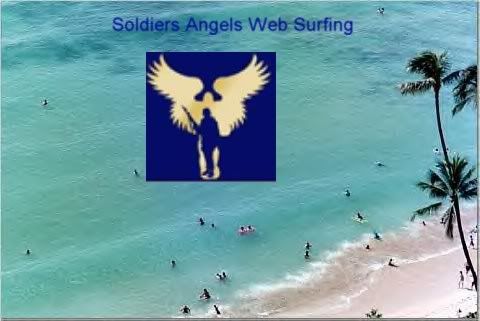 Yikes, I'm late on this, I usually try to get it posted on Friday. Life has just been hectic, and my work schedule has been the same.
Here are three new blogging Soldiers Angels members....well, one of them is an 'old hand' at both blogging And 'Angeling', but she has started another blog. The inestimable Greta Perry, of Hooah Wife and Friends fame has started this blog
and, in case you missed it? A post from yet Another place she blogs (golly, Greta, how many places Are you on the web?! lol:) was recently featured on Milblogging.com
The second new 'blogging Angel' seems to be getting off to a fine start! :)
And this member of Soldiers Angels is also a volunteer guide dog puppy raiser!
(All these blogs have been added to my ongoing listing of )
if you think you should be on this list? Just send me an email at
kasee267@aol.com
-----------------------------
Over on
MySpace
, at the same time I started this Soldiers Angels Web Surfing feature, I started what they call a 'Blog Group' called 'Soldiers Angels Blogs'. Basically this was because there were so many
Soldiers Angels
members on MySpace, and it seemed that a lot of them blogged, and I was trying to find a way to list them in one place.
I've had some problems with that,lol, in that MySpace gets all quirky sometimes, and won't let people join when I try to add them, or else people can't access their blogs,etc....the usual stuff that makes people love And hate MySpace.
And while I'm the group 'administrator' (always so helpful to have an administrator who has no clue, don't ya think?) there seems to be no other way for me to check what is going on among the 'Blogging MySpace Angels' than for me to peruse the whole list of blogs for new posts...in that spare time that I don't really seem to have, ha ha.
So, this is belated, and my apologies to the Angel, but one of the MySpace Angels recently had a great post
--------------------------------------
Angel Blog Posts that I wanted to highlight.......
(and yes, I have links to multiple posts from Soldier's Angels Kansas City...that's because A. She does a great job of blogging and B. SHE can get her Friday posts up ON Friday,LOL, unlike myself :)
------------
Well, that's it for the Soldiers Angels Web Surfing post. Hope you all have a great weekend!