From THE DAILY NEWS-RECORD , our local paper.
Two Harrisonburg Students Among Those Shot In Rampage By Kelly Jasper and Heather Bowser
My daughter attends school with the younger sister of one of those students shot. This hits so close to home, for so many in our community.
Driving home from taking my daughter to school this morning, I wept when I heard this story on the radio
Liviu Librescu was a Holocaust survivor. And that is what brought the tears to my eyes once again, after so many shed yesterday and today for all the innocent lives lost.
To have survived the Holocaust, and then lost his life in a classroom in a Virginia university, protecting his students from a murderer.
Our prayers for all of those affected by this horrendous tragedy continue.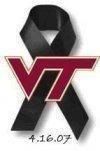 (More area news stories)
Click here: Welcome to News Virginian: Serving the Waynesboro, VA region | Attack resonates in Waynesboro
Click here: The News Leader - www.newsleader.com - Staunton, Va.
And the Roanoke Times has a Guestbook at Legacy.com to express condolences.
UPDATE 4/18/07
The Response of Soldiers Angels to the shootings.